A mission of mercy to house homeless hounds during the COVID-19 pandemic has turned into a canine rescue operation for a Terre Haute dog grooming business.
St. Francis K9 Rescue is an outgrowth of Ollie's Canine Campus, a kennel business at 480 Honey Creek Drive behind Haute City Center.
"Sometimes we have a waiting list of 20 to 30-plus people wanting to surrender their dogs for whatever reason," said Ollie's owner Tom Kuhl. "We have dogs that have been abandoned and people who find them can't take them in. I don't have the heart not to take them in."
When COVID-19 hit, the Vigo County humane society temporarily stopped accepting new dogs. Recently, the shelter again temporarily stopped accepting surrendered and stray animals due to the pandemic, increasing the need for rescue services.
COVID-19 also affected Kuhl's business significantly last year.
Kuhl said Ollie's had a waiting list for spring break 2020 with 80 dogs booked to stay in the kennels while owners went on vacation, and another 20 dogs were on the waiting list. But as the pandemic shutdowns and travel bans grew, by spring break only four dogs still had reservations for the kennels.
So, Kuhl opened the kennel doors to anyone to turn in a stray dog. Soon, the kennels were full.
"We're a boarding facility, so I technically have only 50 rooms for dogs, but a lot of families have more than one dog, so we can hold up to 100 dogs when family dogs stay in the same room. But we had 50 foster dogs here and that was cutting into the business of Ollies," Kuhl said.
Enter vet tech Jimmy Matczak-Roe, who officially started working at Ollie's in late June 2020. Prior to that, he began organizing an adoption event at Ollie's that resulted in at least 10 dogs finding homes. A few more rescued dogs were adopted soon after.
Soon, discussions of what to do with the increasing number of surrendered and stray dogs led to formation of St. Francis K9 Rescue as a not-for-profit organization.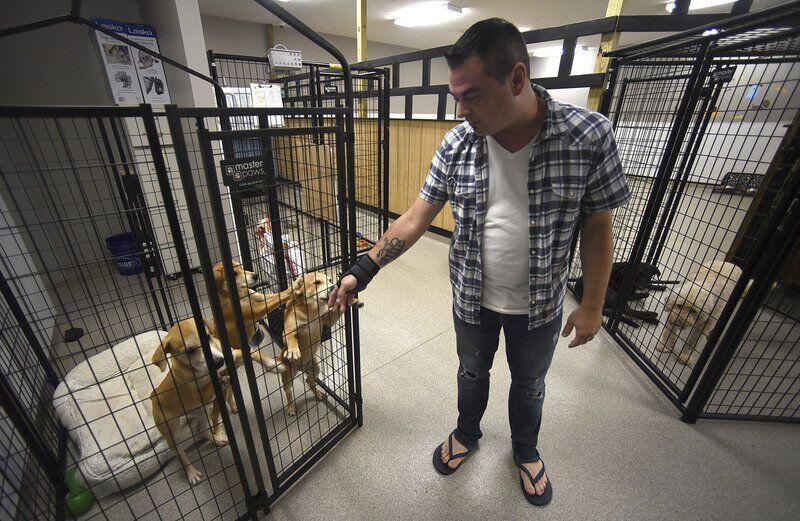 Since last year, Matczak-Roe also has been the St. Francis adoption coordinator. He has placed about 220 dogs in new homes with a success rate of 98 percent being a good fit for their new homes.
At one point, the rescue had 23 puppies on hand, including the surprise of two stray females that came in pregnant, Matczak-Roe said.
Just this week, the kennels are again nearing capacity with boarded dogs, many who are in doggy daycare where they can socialize with other canines while their humans are not home, and with rescued dogs.
Matczak-Roe said the Clay County animal shelter recently had a seizure of 30 dogs from a hoarding situation. Nine of those dogs came to St. Francis K9 Rescue where they have been groomed in preparation for adoption.
The growth of business has been staggering for Ollie's since it opened in 2016 and for the rescue since it began last year, Kuhl said.
He started Ollie's with two employees, and how has a staff of 31 including groomers and vet techs. The business also works with area veterinary clinics to get the medical treatment some animals need due to illness, injury or neglect.
Kuhl said the rescue has incurred about $30,000 in expenses since it began, and he covers most of that from donations and from his own pocket.
All rescue dogs are spayed or neutered and all get their required vaccinations. About 10 dogs have been treated for heartworms, and that can cost up to $1,000 per dog.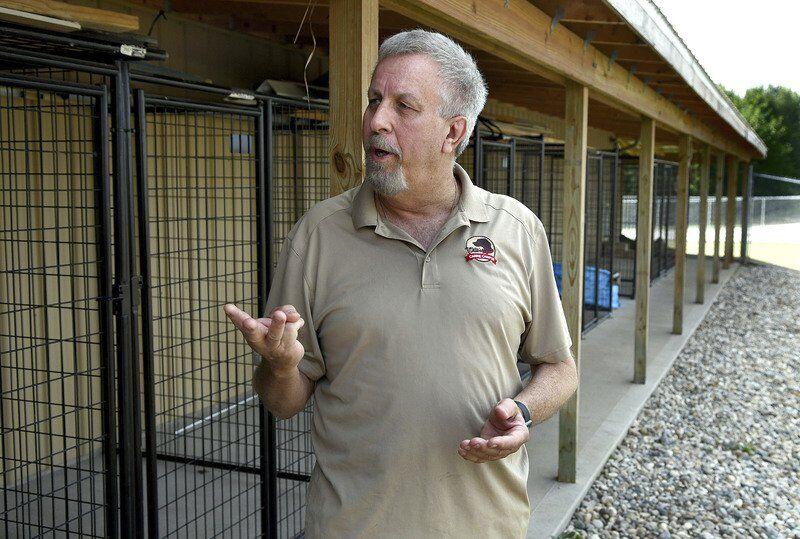 An upcoming adoption event is set for 10 a.m. to 3 p.m. Sept. 11 at Ollie's. Several Wabash Valley animal shelters and rescues are also participating.
Due to the growth of the rescue, Kuhl is planning an expansion of his facility to include three new dog playgrounds for canines boarded at Ollie's, and new adjacent prefabricated kennels for the rescue.
The rescue kennels will cost about $160,000, he said.
Kuhl said he has been in contact with city officials trying to get a contract to receive some of the stray dogs that the local humane society cannot house due to capacity.
It is a leap of faith to take on the expansion, he said, but it is worth it to keep unwanted dogs from facing hunger and the dangers of living on the street.
Anyone wanting more information about St. Francis K9 Rescue or Ollie's can go online to www.olliesk9campus.com or look up Ollie's Canine Campus on Facebook.
Lisa Trigg can be reached at 812-231-4254 or at [email protected] Follow her on Twitter at TribStarLisa.